On my journey (
back in August
) to find the best cupcake in DC, we went to
hello cupcake
in Dupont Circle. We (
aka Pepe, Kar, Baby O and me
) shared these between the 4 of us (
ok, I'll be honest, Baby O just had a small bite of one and I ate the majority
).
Kar and I have become connoisseurs of sorts
(ok, to be honest, we're not the educated in cupcakeries and we're not that fancy, but isn't connoisseur a fun word to use?)
, we take a small bite and really taste it. Then move on to the next cupcake.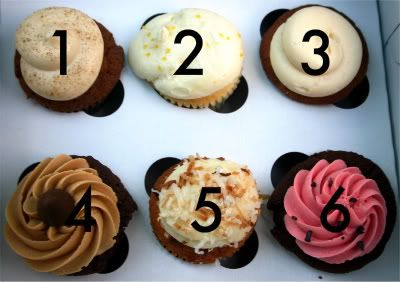 1. 24 carrot (aka carrot cake) -
the best
, great cream cheese frosting
2. you tart! (aka lemon) - 4th best, think lemon bars
3. vanilla gorilla (aka banana cake) - 2nd best, like banana bread with cream cheese frosting
4. peanut butter blossom - 5th best, better than
this
pb cupcake
5. triple coconut - 3rd best - i love coconut and there is a lot.
6. raspberry beret - blah...last place, although the chocolate cake is good.
Still, my top favorite is a tie between
vanilla 2
at
Georgetown Cupcake
and a mix of the
cream cheese frosting
at
Red Velvet Cupcakery
and
red velvet
cupcake at Georgetown Cupcake.
Do you have a favorite cupcake place?