I came across a website selling a kit, with a canvas & paint for $14, so that you could paint your kid's feet, stamp the on the canvas and have a
nice piece of artwork
. I decided to just head to the craft store and buy these items for cheaper.
I bought an
8x10 inch painter's canvas
(gallery wrapped, as I had no intent of putting this in a frame, I like that look)
at
Michael's
- on sale for 50% off, I think it came to $3.50.
I then used the 40% off coupon off one regular priced item
(you can find this in their ads)
to purchase the
acrylic paints
(it came with the brush)
, cost $3.00.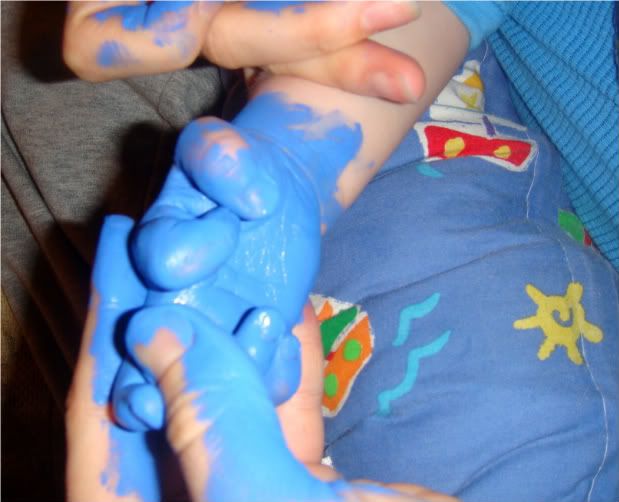 Then one evening, after Baby O feel asleep in my arms, I
(with the help of my sister)
pulled out the paint and
coated his hand in a vibrant shade of blue
(fitting for a baby boy)
.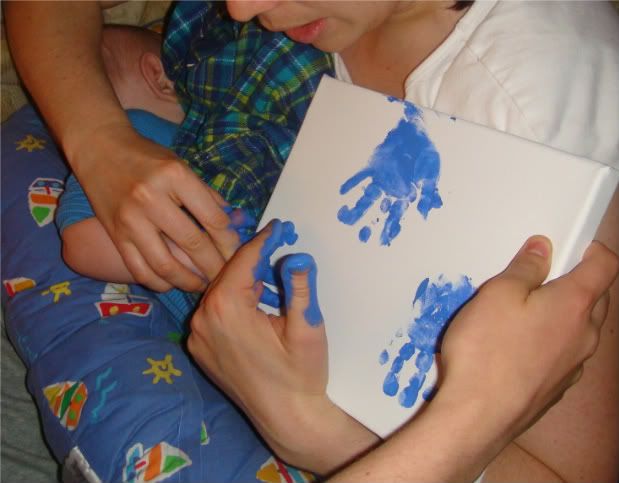 With the help of my sister, I quickly
(because the paint dries fast)
stamped Baby

O's

hand onto the canvas
in different places
(you have to

recoat

with paint for each hand print). I know he looks covered up in this photo, but he could breath. We did it so he didn't hit himself in the face with the painted hand. Also, not sure why I was wearing a white shirt, I never wear white, but I did this day, go figure.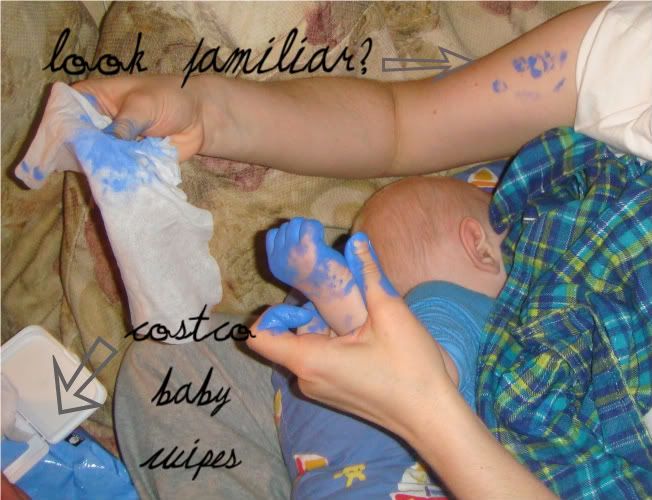 After I was done with his right hand, I used a
ton of wet wipes to clean off both our hands
. Then for the
left hand
, I went with a
brown paint
(which turned out a little reddish.)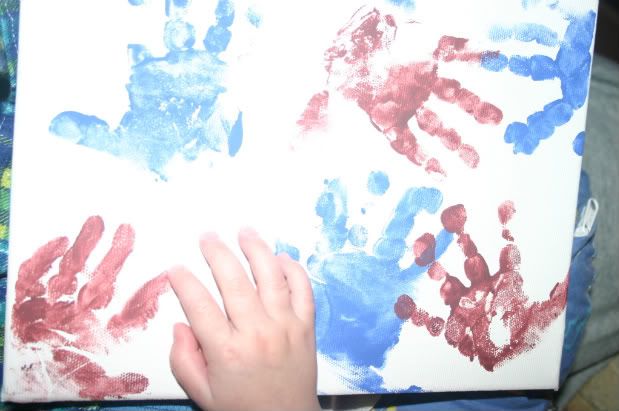 I bought 2 extra canvases, so that I could make a couple for his room or
repeat when he gets older
. I also think this would be fun to do with footprints, especially when a baby is brand new.
I have enough paint, I could easily do this hundreds of times, no joke. I think it would be fun to mix the paints and make my own color combos.
Other color combos I think that would look cool:
forest green/pea green
navy blue/sky blue
red/yellow
two shades of brown
black/grey/white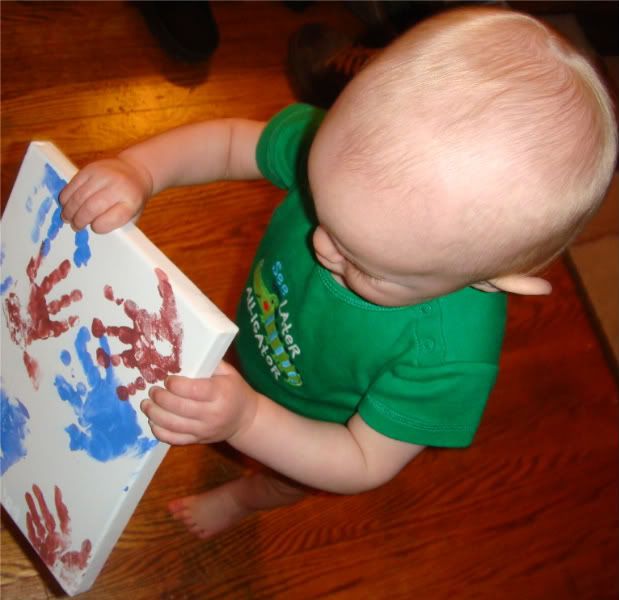 I wrote his
name in white paint
with the date in one of the corners and then
put a special note in the wood grain
on the back of the canvas. Then shipped it off (via my brother) to my mom.
I know this idea is probably not original, but it was a huge crafting hurdle for me.
ps
...Pepe and I got engaged 5 years ago today (on a Tuesday). I am just writing this because I always forget this day and I didn't today.